Visit of the Lamborghini factory and museum.

After the visit of Maranello, we went to Sant'Agatha Bolognese, the town of the famous bull of Lamborghini. In may 2006, the Gallardo roadster were in full production and the new LP640 were just at the pre-production stage. The atmosphere is completly different from Maranello's one, Lamborghini people are really friendly and in love with their products and history. Many thanks to them and in particular to Cristina, who autorized us to visit the mythic factory. Welcome into the Lamborghini planet....
First step of our visit, we arrived directly into the parking of the factory... some Audi cars show who is the new owner of Lamborghini, but a lot of italian supercars were present outside, for testing or for public exhibition.
| | |
| --- | --- |
| An interesting prototype of the LP640 : it was an hybrid version with the engine and the front/side bodylook of the LP640, but with the rear and the inside of the classic Murcielago. In fact, it was a mule development car for engine specifications. | |
| | | | |
| --- | --- | --- | --- |
| the LP640 | | | |
Second step of the visit : the Lamborghini Museum. Some symbolics cars were exposed like the first (a green LP400) and the last (a silver 25th anniversary) production models of the Countach, the last Jalpa 3,5 ever made, or some rare derivatives of the Diablo (the last 6,0 SE, a GT1 competition model). Few prototypes were exposed too (the Concept S, the Walter Da Silva Miura and the well known gold color Diablo Roadster) and an interseting line up of Lambo powered Formula 1. Just a regret, the first Lamborghini prototype, the 350 GTV, were absent from the museum.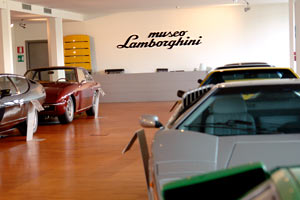 | | | |
| --- | --- | --- |
| | | |
At last, the lamborghini team authorize us to visit the sanctuary : the assembling lines of the differents Lamborghini models. All the pre productions LP640 were there... and 90% of the gallardos are spyder versions.
Another child dream came true : walking inside the factory, through engines workshop (with a LP640 V12 on the engine testing unit, at 9000 rpm, what an amazing sound!), the chassis and transmissions set up (a gallardo spyder were running on rollers, at 250 kmH in front of a screen, with speed and selected gear to be in) or the leather workshop (some leather combo can be ... exotic!).
| | |
| --- | --- |
| Time were up for us to leave the Lamborghini factory and go back toward France. Some Lambos were still running through the factory, in particular a tremendous apple green LP640. | |